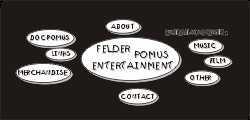 Doc Pomus
Songwriter - Producer - Singer
1925 - 1991




To Find Out More About Doc Pomus...

Semi-Legal Stuff About The Song Portions Featured On These Pages...




Till The Night Is Gone: A Tribute To Doc Pomus...

Selected Album Reviews...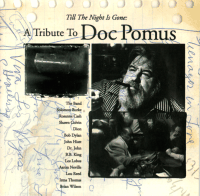 Dallas Morning News
"The Artists On The New... [Album] Surely Loved Doc The Songwriter, If Not The Man. ...Pomus Could Turn The Spin On A Cliched Phrase And Deliver It As A Knockout Punch. ...The Best To Date..."
E! Entertainment TV
Album Pick Of The Week.
New York Daily News
"Till The Night Is Gone Is Undoubtedly The Best Tribute Album Yet. "
New York Newsday
"...Hits From A First-Stringer Among Songwriters."
New York Post
"I've Had This Disc For About Two Weeks And There Hasn't Been A Day This Album Didn't Make It Onto The CD Player. It Doesn't Get Old With Repeated Spins, It Gets Better. This Is An Absolutely No-Risk Disc That Will Count As One Of The Biggest Releases Of The Year." Four Out Of Four Stars.
Request Magazine
"Till The Night Is Gone Reinforces The Obvious Point That Pomus' Tunes Should Be Considered American Pop Standards As Much As Irving Berlin's..."
Rolling Stone
"...The Meaty, Daunting Scope Of Pomus' Art Is Given Its Just Due. The Most Gripping Moments Come When Artists Find New Meaning - Sometimes Definitively - In Well-Trod Turf. ...Rosanne Cash Turns In The Album's Most Moving Performance With A Chilling Take On `I Count The Tears'... Till The Night Is Gone, These Songs Will Endure As Lights Illuminating An Often Treacherous Path." Four Out Of Five Stars.
Return To Top



Our site is protected by copyrights and/or trademarks except for those images and/or text segments
that are already copyright or trademark protected by other persons and/or corporations (see about).