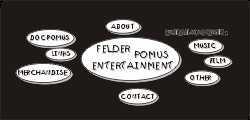 Felder Pomus Entertainment's Other Entertainments...
Felder Pomus Entertainment is proud to produce and/or sponsor a variety of non-music and non-film or 'other' entertainments. In the recent past we:
Sponsored the World Premiere opening of the Photos of Diana Dietrich at the Soho Gallery in New York City;

Produced the musical Sherita Marshone The Argentine Bomb Shelter starring Sheryl Marshall at the Bottom Line, CBGB's and other New York City locations;

Produced the one woman show Hey Dollface! starring Jennifer London at the HERE theater in New York City and the HBO Theater in Los Angeles.

These Entertainments help FPE spotlight new talents in any and all media and make them accessible to the widest possible audience.

On tap for FPE is the Broadway musical Save The Last Dance For Me based on the life and songs of Doc Pomus set to open in 2002. Also coming soon is the magazine Opinion featuring commentary on Politics, Society, Entertainment and Every Day Life in which the readers get to argue their opinions on the issues with the policy makers, activists, moguls and stars who effect their day to day living.
Our site is protected by copyrights and/or trademarks except for those images and/or text segments
that are already copyright or trademark protected by other persons and/or corporations (see about).