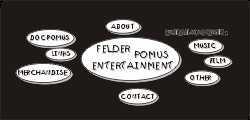 COMING SOON...
In the coming months you will be able to order Felder Pomus Entertainment merchandise as well as 'Go Jimmy Go' merchandise and goodies from the Broadway musical 'Save The Last Dance For Me' based on the life of Doc Pomus.




Our site is protected by copyrights and/or trademarks except for those images and/or text segments
that are already copyright or trademark protected by other persons and/or corporations (see about).